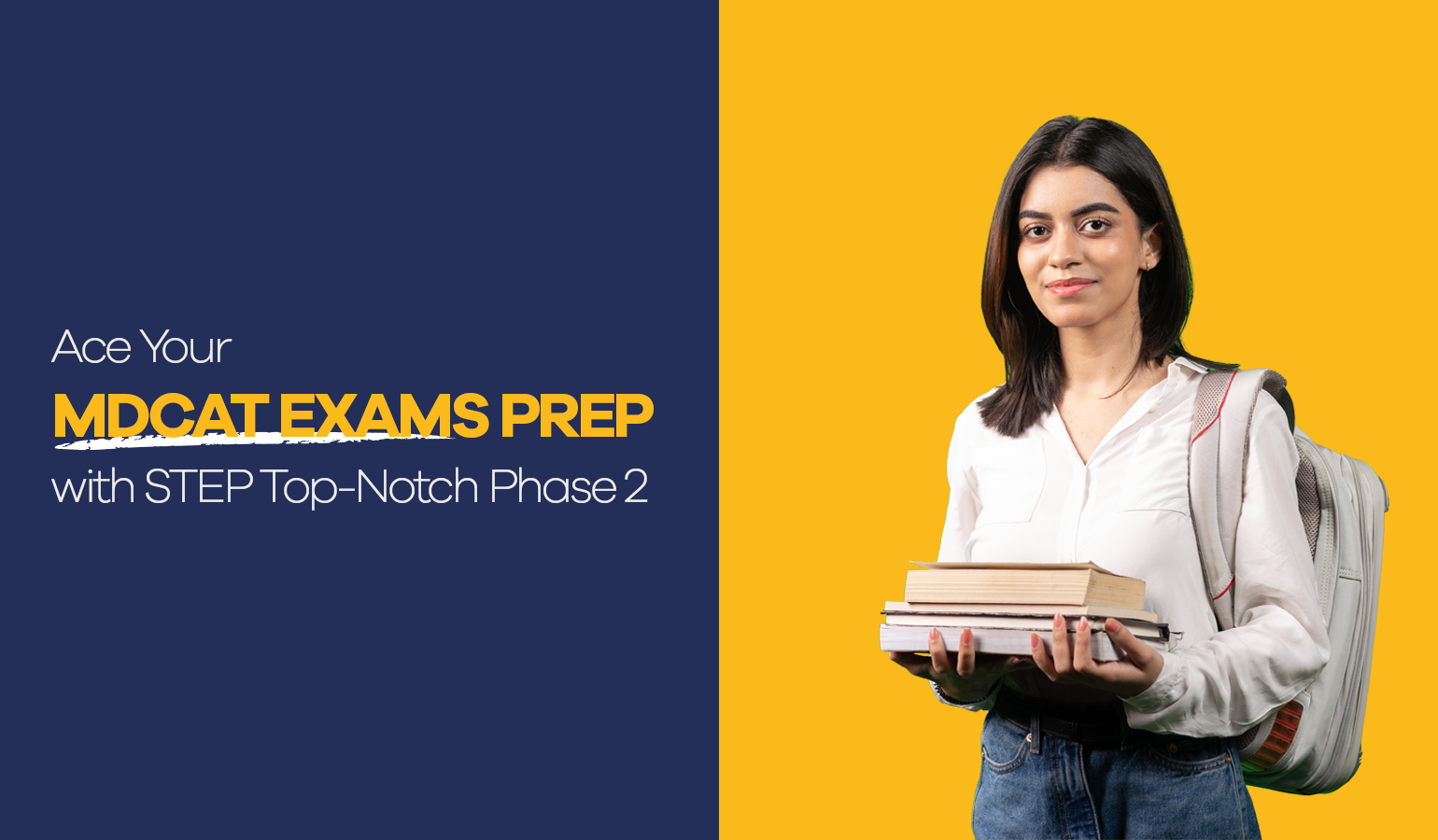 Article: Ace Your MDCAT Exams Prep with STEP Top-Notch Phase 2 
If you aspire to become a doctor or dentist in future? Then you must score high in your MDCAT exams 2023. Hence, STEP by Punjab Group of Colleges (PGC) brings an outstanding programme for you which is STEP Top-Notch (STN) for aspiring students like you. You will be able to improve your medical test score rigorously through proper guidance and best practices offered at STEP prep with us.
Introduction to MDCAT Exams
The Medical and Dental College Admission Test (MDCAT) also known as the National Medical and Dental College Admission Test (NMDCAT) is an entrance exam comprising multiple-choice questions (MCQ) conducted every year to assess your aptitude for admissions in medical and dental colleges.
Therefore, you will be able to achieve your goal only by clearing the entrance exam. Later, you will have a lot of opportunities to pursue your studies in the medical field. Remember, you can achieve all your goals through your hard work and smart work.
What is STEP Top-Notch (STN) Programme?
STEP top-notch (STN) is an MDCAT exams-oriented preparatory session launched by the largest entry test preparation network in Pakistan which is STEP. Following the tradition of regular practice, we are now at its second phase known as the challenger phase, designed to accommodate students with the high standard for exam prep.
In a nutshell, if you are looking for the best MDCAT preparatory course, then STEP is here for you. Even if you were not a part of our first phase (simulation phase), you can still join STEP in the challenger phase. You can register now to experience standard education and assessment as this phase will start from 08-August-2023.
Who Should Enrol to STEP Top-Notch 2023 Challenger Phase?
As you know, the PMC MDCAT registration has been closed on 31 July 2023. So, after registering, what comes next? it is high time is to invest all your efforts into the preparation for this test. 
If you are still thinking about whether you should join our top-notch challenger phase or not, then you must not waste your time and check if this is a fruitful idea for your prep or not. STN is ideal for you if you fall in any of the following criteria:
1. Self-Studying Student 
We have always listened that hard work always pays off which is totally correct but in today's competitive world, you also need to work smart. To raise your standard of preparation for MDCAT exams optimally, you require abundant guidance and practice.
So, with the challenger phase of STEP top-notch 2023, you can accelerate your studies and time management ability in a far better way at STN. Thus, this session would be beneficial for your life prospects.
2. Preparing from a Different Stream 
Have you already registered for any other MDCAT course? But you are not able to get your desired progress in your current prep course, then you can apply at STEP for the best preparatory experience now!
3. Underconfident Students for MDCAT Exams 
Are you not confident enough about your prep? Then you must join our outstanding session because it will help you cope with your studies and regular tests in a competitive environment. Hence, you will be able to understand your shortcomings and improve them in real time.
4. Aiming for High Scores 
If you want to excel in your MDCAT exams this year, then you must not leave any stone unturned which means you have to join an exclusive course which is STEP Top-Notch 2023. You can get admission in MBBS, BDS, or any Allied Health degree with a high aggregate which is only possible if you achieve an outstanding score in the entry test 2023. 
Specifications of Challenger Phase of STN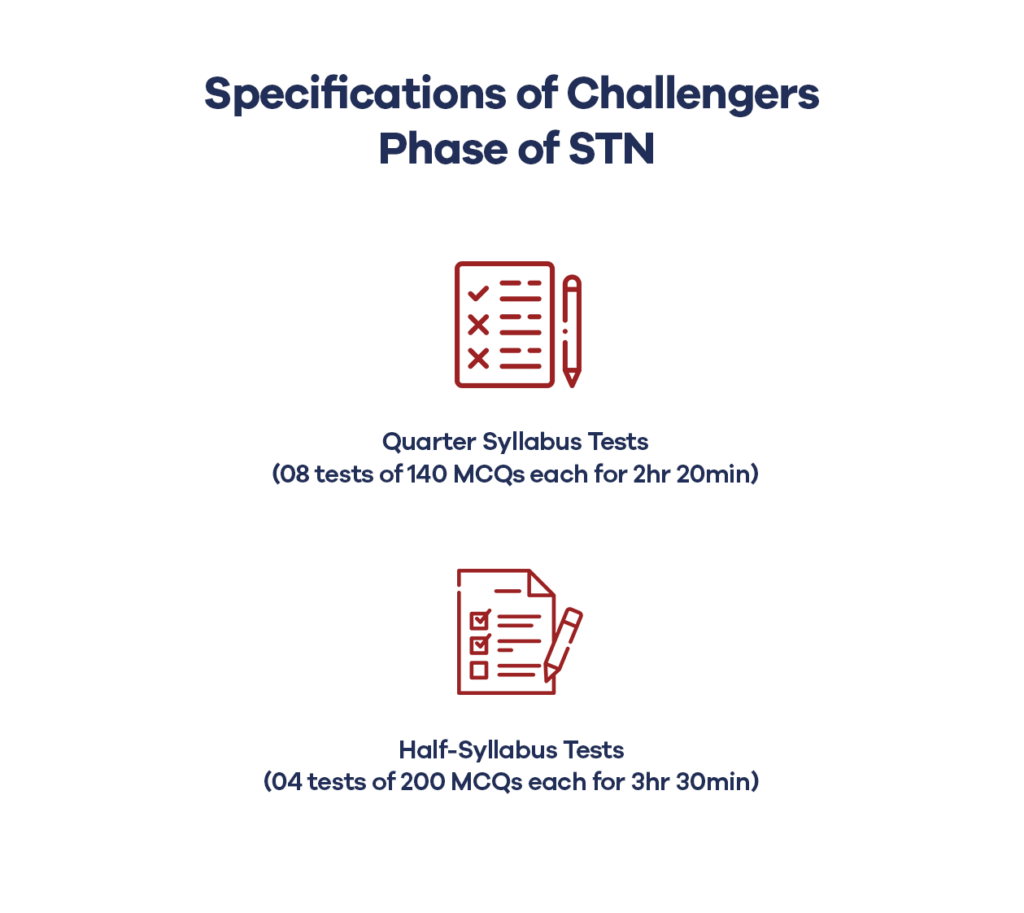 STN second phase includes phase with two types of tests which includes the following:
Quarter-Syllabus Tests: 08 tests of 140 MCQs each for 2hr 20min 
Half-Syllabus Tests: 04 tests of 200 MCQs each for 3hr 30min 
Now, you must have made up your mind about joining our course, then let me elaborate on some of the key features available at STN.
Astonishing Features of STN for MDCAT Exams 2023
At STEP, we provide you with all the updated exam questions, past papers of every subject, real-time revision opportunities and discussions after each test. In short, we are best at what we do. So, the advantages you can avail yourself of are mentioned below:
Flexible Timetable (both morning and evening classes are available)
Incredible Teaching Methodologies
MCQs bank of more than 70,000 questions available online
Multiple workshops will cover all the units of every subject
Career counselling by Student Advisory and Counselling Department (SACD)
Our invigilation system is as per the standards of official MDCAT exams
Marking of all the tests is also done according to the official standards of PMDC
You will have 24/7 access to the STEP portal and STEP App (which contains all the educational material and past papers for every subject)
Stress Management Guidance 
Constant self-evaluation chances 
Affordable Fee 
Fee Structure
As mentioned above, the fee is kept quite affordable for everyone which is only 10,000/- PKR. (With conditions applied) 
Scholarship Criteria at STEP
Along with the affordable fee structure, we also offer you multiple scholarships which are as follows:
Merit-based Scholarship 
Need-Based Scholarship 
Kinship-Based Scholarship
Alumni-Based Scholarship 
(Note: If you have been a student at Punjab College, STEP or Hadaf College, then you can avail yourself of a 25% scholarship at STEP)
Centres for STN
All the campuses of Punjab Group of Colleges (PGC) and Hadaf Colleges are the centres for the STEP Top-Notch Session 2023 (challenger phase). So, if you are from Punjab or KPK, you can easily enrol yourself now!
Get Your Admission for MDCAT Exams Prep at STEP Top-Notch Course Now!
You can visit any nearby STN centre to join our challenger phase or enrol online via the STEP portal. Thus, you can apply to construct your future with great life opportunities with us right now! Learn more through the STEP website.