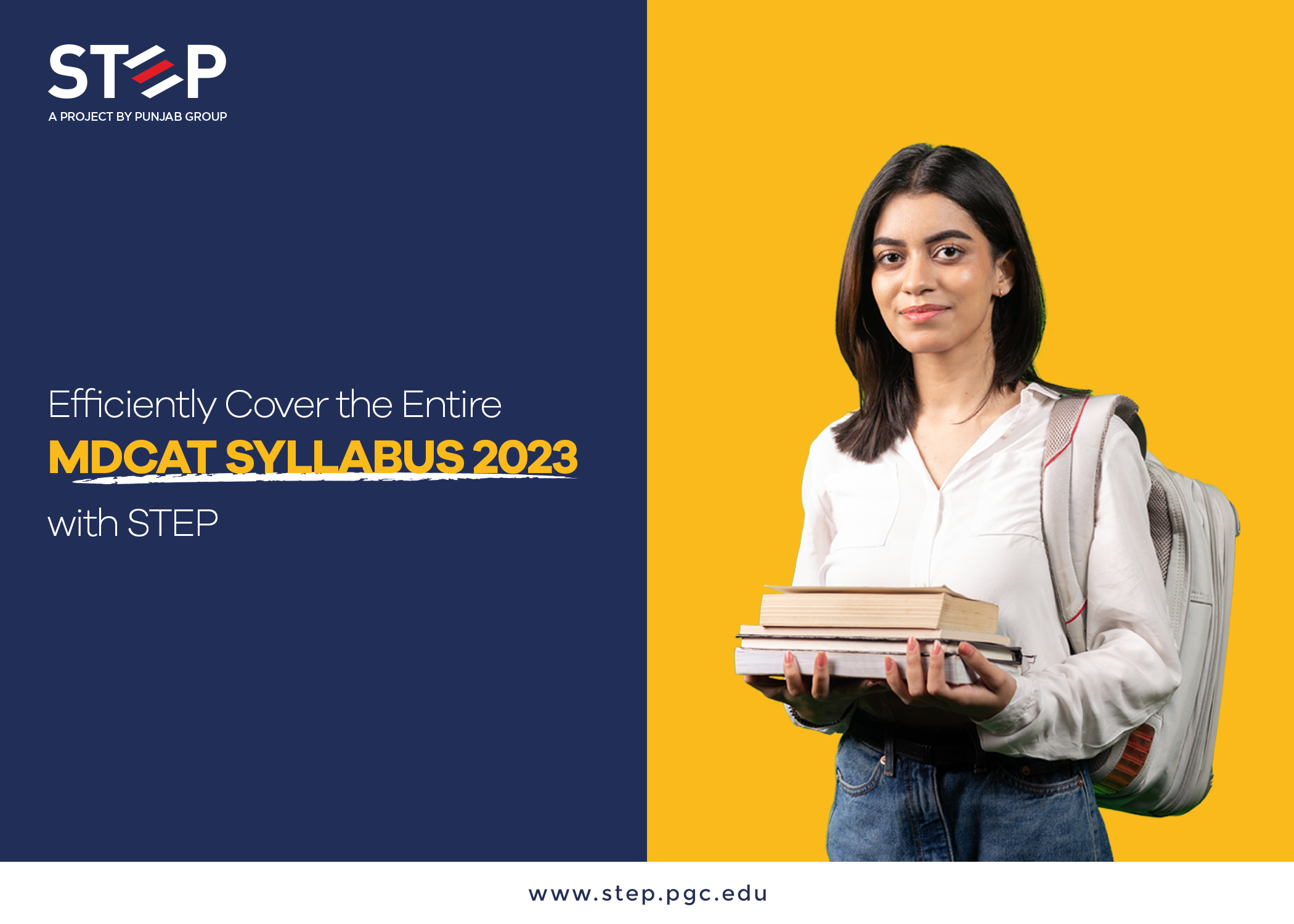 Article: Efficiently Cover the Entire MDCAT Syllabus 2023 with STEP
Are you aware of the MDCAT Syllabus 2023? Are you preparing for the entry test this year? If yes, you have come to the right page. STEP is here to get you started on your preparation journey. Our experienced faculty members have structured each lecture in accordance with the MDCAT syllabus 2023. 
MDCAT Syllabus 2023
The meeting of the National Medical and Dental Council was held on 04 June 2023, in which the final syllabus for MDCAT 2023 was announced. Most of the things are the same as the 2022 syllabus. Thus, the weightage of each subject for the exam is: 
| | |
| --- | --- |
| Subject | Weightage |
| Biology | 34% |
| Chemistry | 27% |
| Physics | 27% |
| English | 9% |
| Logical Reasonings | 3% |
While preparing for the most challenging exam of your life, keeping track of the updates of the MDCAT Syllabus 2023 can be hard. This stressful situation can be solved by signing up to STEP. As STEP Top-Notch Programme is designed according to it. This course helps you solve all your queries about the syllabus, test pattern and preparation strategies.
Who is Eligible to Apply for the MDCAT 2023?
Minimum marks are changed from 65% to 70% marks in FSC with subjects of biology, chemistry, physics, and English.
If you are living abroad and want to appear in the entry test then no need to worry, because foreign residents with Pakistan nationality are also eligible 
But you should be from Punjab or Balochistan 
You must have registered with the MDCAT as the registrations are closed, now. 
Why Choose STEP Top-Notch Session to Help with MDCAT Syllabus 2023?
The first step is registering for MDCAT. STEP is here to help ease your second step which is preparing for the test. We have designed top-notch classes to accelerate your learning process.
This course is according to the MDCAT Syllabus 2023, and the paper pattern of the entry test given by PM&DC.
Furthermore, STEP has always kept an eye on the updates of the MDCAT Syllabus and Paper Pattern. The good news is that there will be no negative marking on this year's entry test. So, this will give you a better chance to succeed as you will have the chance to attempt all questions with an open mind.
Benefits of Signing in to STN Classes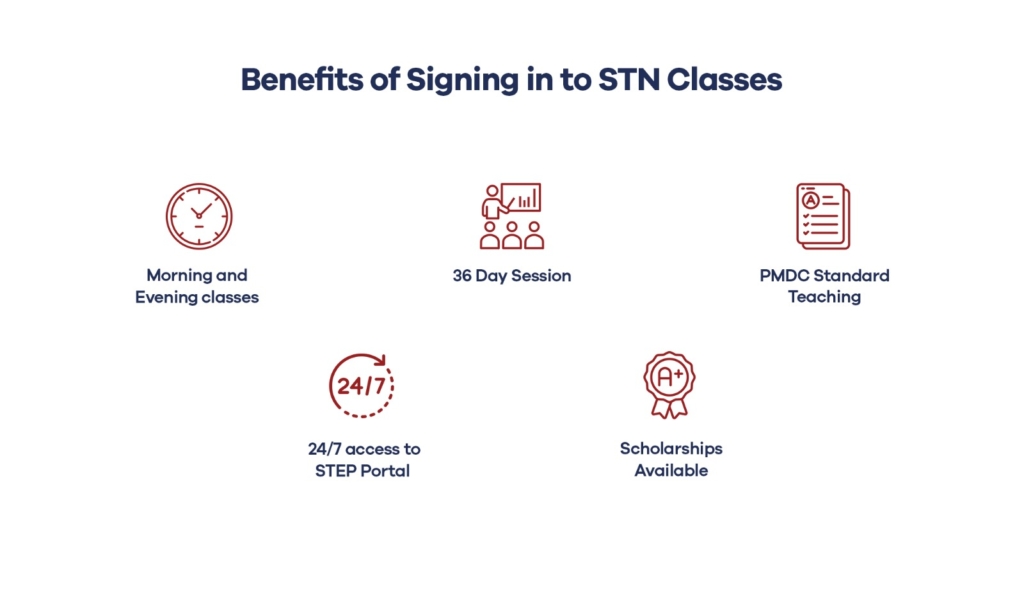 There is a vast range of benefits that you will get after signing up for our top-notch session (STN) such as: 
Both morning and evening classes are available
36 days (about 1 month 5 and a half days) long timetable is designed. Additionally, Sundays are also working days
PMDC standard is met in all our teachings
The lectures are in accordance with MDCAT Syllabus 2023
You can maximize your practice with us
With good preparation, you will get great relief from your ongoing stress
STEP assures better opportunities for your future with its Top-Notch course
The invigilation and paper marking will be as per the standards of MDCAT
You will have 24/7 access to the STEP portal
Multiple resources are available (e-libraries, career counselling, discussions after every test)
Pocket-friendly fee structure
Scholarships available (criteria based)
How Top-Notch Programme is Helpful?
Do you want to get an idea of how well you will perform on MDCAT 2023? This session is equipped with three phases to help you assess your preparation. Therefore, the MDCAT Syllabus 2023 is covered through all the tests during our phases.
The first phase is the Simulation Phase which will give you a simulation of sitting and attempting the actual MDCAT. Total simulations are 18, each one is 2hr 20min long for 140 MCQs.
Secondly, we have our Challenger Phase. It will help you challenge your preparation by attempting 08 quarter syllabus-based Challenger tests (2hr 20min for 140 MCQs) and 04 half syllabus-based challengers (3hr 30min for 200 MCQs).
The third and last phase is also very vital to your learning process. It is our Mock Phase which is subjected to both MDCAT and NUMS aspirants. It includes 06 complete syllabi Mocks:
a. 04 MDCAT= 3hr 30min for 200 MCQs
b. 02 NUMS= 3hr for 250 MCQs
Thus, you will boost your confidence after going through all three phases. Moreover, you will get familiar with how you are going to manage your time in the actual entry test by solving all these tests. 
STEP Assure Your Admission to Medical College
You must achieve at least 60% marks in MDCAT to build your aggregate. The aggregate percentage is 70% for the year 2023, but we want you to set your goals higher. Thus, this test is vital for admission to more than 150 medical colleges all over Pakistan.
The centralisation of the programme will help you all pursue your career in MBBS, BDS, DPT, or any other Allied Health Degree.
Centres of STEP for STN Programme
You can easily apply online, or you can visit any Punjab College or Hadaf College campus near you. So, what are you waiting for? Enrol yourself on the best course available for your MDCAT preparation this year, now!