Article: Last Chance to Enrol for STN Mock Exams Before MDCAT Exam 2023 
Are you underconfident or unsure about your entry test preparation for MDCAT 2023? STEP by PGC (Punjab Group of Colleges) is here to help you through multiple mock exams available at our STEP Top-Notch (STN) 2023. But you must hurry up and enrol yourself for this amazing opportunity right now as it is the last chance before the MDCAT Exam 2023.
MDCAT Exam 2023
As you have already been aware that the Pakistan Medical and Dental Council (PMDC) has announced the MDCAT Exam 2023 for this year on 10 September 2023. This date has been updated as MDCAT 2023 has been rescheduled. Now, the time has been extended but still hardly 3 weeks are left for revision. Therefore, you must give the final touches to all the efforts you have been putting in for months.  
For this reason, we are taking admissions exclusively in the last phase which includes mock exams of our ongoing STEP Top-Notch session 2023. Through STN, STEP aspires to help all its students to revise the MDCAT syllabus in the best possible way by offering a wide variety of sample papers, workshops, drills and much more.
Phases of STEP Top-Notch 2023
STEP's MDCAT sessions always deliver the best results and we have introduced new preparatory courses for entry tests. It caters to all the needs of an MDCAT aspirant. One of our sessions includes STN, as I have mentioned above it is an ongoing programme. The first two phases have already been covered which were as follows:
Simulation Phase
Challengers Phase
Hence, it is your last chance to practice the mockup exams. You can apply for the third phase of STN with us at STEP, which is the Mock Phase. Let me tell you all the prominent features of this last phase of our Top-Notch programme.
Mock Phase
You will avail yourself of the chance to undergo a variety of mock exams including all the important questions covering every unit of each subject profoundly. It includes 06 complete MDCAT syllabus mocks which are further divided into the following categories:
04 MDCAT= 3hr 30min for 200 MCQs
02 NUMS= 3hr for 250 MCQs
Thus, it does not matter if your priority is MDCAT or NUMS, our mock exams will aid your entry test preparation in the best way possible.
Why STN Mock Phase Will Be Helpful for the MDCAT Test?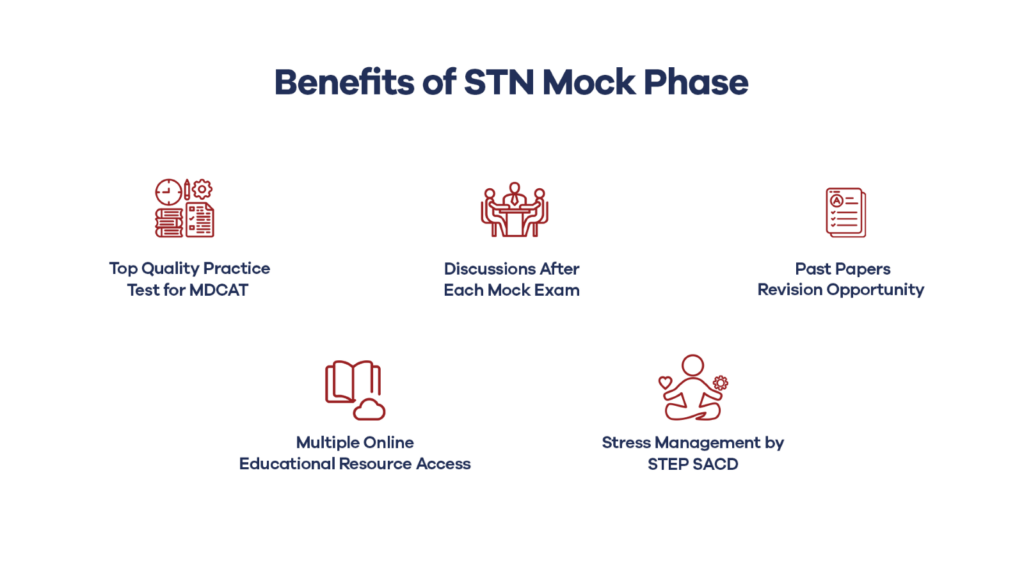 Now, you must be thinking about how this third part of STN will be helpful in your overall preparation or why you should join this. Then keep on reading this article. Some of the main features you can take advantage of, after registering with our top-notch mock phase are as follows:
1. Top Quality Practice Test for MDCAT
I know you have studied a lot for this entrance test, but it is wise to keep all your ground covered. To score well in MDCAT Exam 2023, it is essential to work on your time-management skills. Which ultimately helps you in attempting an accurate paper promptly. On the contrary, the time is short to practice on your own. For this reason, you should join our mock exams for the best practice and timely revision.
Moreover, after attempting several mock exams, you will grasp all the concepts before the MDCAT Exam 2023.
2. Discussions After Each Mock Exam
STEP by PGC, being the largest entry test preparation network, gives you the chance for discussions after each mock exam. This facility enables you to learn about your mistakes, so, you can avoid them in the entry test 2023. 
Thus, it will allow you to correct those mistakes and update your knowledge as our invigilation and paper checking are as per the standards of PMDC.
3. Opportunity to Master MDCAT Past Papers Ahead of MDCAT Exam 2023
We have incorporated the most important questions from the past papers of previous years which will help you get a great score on your Medical and Dental College Admission Test (MDCAT). So, you can achieve your goal of getting admission to your dream medical or dental colleges in Pakistan. 
Hence, you just have to enrol on our mock exam phase to polish your paper-attempting skills and knowledge.
4. Access to Online Educational Resources
After you get admission to the STN programme 2023, you will be able to access many online educational resources available at STEP via two digital options. You can download our learning resources on your Android phone as well as on your Apple devices.
In addition to this, you can also access our resources through the web portal via the following links:
STEP APP (For Android)
STEP APP (For Apple users)
You will be able to open and study past papers with answers, and online lectures at your convenience through our mobile apps or our online portal.
5. Chance to Manage Your Anxiety Prior to the MDCAT Exam 2023
Finally, I will tell you a benefit which some people overlook but it is vital for your success. I know it is not easy to prepare considering all the competition and hurdles of medical and dental college admissions, but all your efforts will make your future. 
We have a Student Advisory and Counselling Department (SACD) to help students manage their pre-exam anxiety or stress. Because you can only perform well when your mental health is in good shape. I have seen students fainting due to stress in the MDCAT exam hall which you can avoid by managing your stress through proper guidance.
So, you must prepare your best through our mock exams and manage your stress levels along with it at STEP.
Apply at STEP Top-Notch Before MDCAT Exam 2023
If you are eager to excel in your MDCAT exams 2023, then apply at STN mock phase now as the time is short and the final phase is on a roll. Its seats are numbered. You can apply online or you can visit any STN centre (all the PGC Campuses and Hadaf College Campuses) for onsite admissions.
Hurry Up and Join STN Mock Phase Right Now!