Article: STEP Top-Notch Session: The Best Choice for MDCAT Test Prep
What is MDCAT Test?
The test that will get you a pass to your desired medical college is the MDCAT Test. The Medical and Dental College Admission Test (MDCAT) was first held in 1998, under the leadership of the Chief Minister of that time; Mian Shahbaz Sharif. 
The HSSC exam had many cases of cheating, so, to reduce it, the authorities suggested that MDCAT should be conducted. Since then, the Pakistan Medical and Dental College (PMDC) conduct it every year.
The aggregate weightage by UHS is as follows:
| | |
| --- | --- |
| MDCAT | 50% |
| HSSC / FSC marks | 40% |
| Matric | 10% |
MDCAT holds the highest percentage in weightage. So, you must give your best efforts during your preparation journey as the competition will be very high.
How Many Students Appear in MDCAT Test?
According to PMRC, around 200,000 students have registered for MDCAT Test the previous year and the number has been increasing every year.  
This year 210,000 students are going to appear in the entry test. Up to 70,000 more students will take the test in 2023. These numbers show how much competition has already increased from the previous year.
MDCAT Date for 2023
This year's MDCAT test will be held on 27 August 2023. All the pre-med students from big provinces like Punjab, Sindh and KPK will attempt the MDCAT. 
So, how can you stand out among a whole population of pre-med students? How can you secure your spot in the limited number of seats in medical colleges? No need to worry because I am going to give you some good news. 
STEP for MDCAT Test Preparation
STEP is the biggest network for MDCAT Test prep sessions around the country. It is best because the programmes are great, but you can sign up for our latest STEP Top-Notch Session for the best experience.  
STEP Top-Notch Session Details
Different varieties of tests will be conducted at STEP to make you able to achieve your goal. You can score the best result after going through all our practice tests.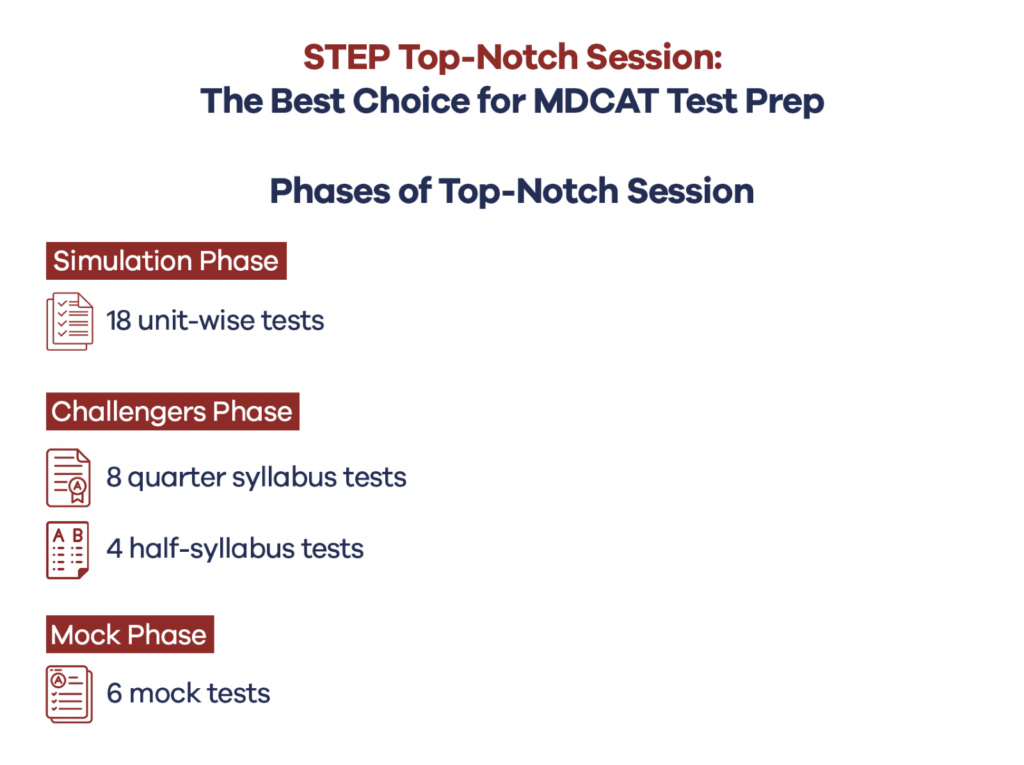 Firstly, we have a Simulation Phase that will help you to start evaluating your preparation because it will provide you with various assessments. Each subject will have 18 unit-wise tests with all the important questions that may appear in your actual test
Secondly, the Challenger Phase will make you able to challenge your knowledge of the subjects. It includes 08 quarter syllabus tests and 04 half-syllabus tests that will help you gradually achieve your full syllabus learning potential.
Lastly, STEP by PGC offers you a Mock Phase that will mimic the actual MDCAT Test. It is beneficial for both the students preparing for MDCAT and NUMS. This phase includes a total of 06 Mock Tests.
Furthermore, we have multiple resources for every student such as;
1. STEP Portal 
The portal has all the recorded lectures, past papers, drills, worksheets and other helpful materials online. You can sign in after getting enrolled on our prep sessions. 
3. STEP App 
Moreover, you can also download the App for convenience. As a result, you will have access to all the helpful study material 24/7.
STEP aims to enhance your ability to score in this year's MDCAT Test. We have a spotless track record to prove why we are the best for you. Joining our preparation session will solidify your chances of success.
Who Can Join Top-Notch Session 2023?
Are you searching for the perfect course for the MDCAT Test prep? No need to worry because I will tell you who should join this programme and why.
If you are a student who has been preparing from home, then this top-notch course is for you. Moreover, you can get to the best of your abilities by learning in a competitive environment and evaluating your progress.
Also, if you are struggling to keep pace with your current plan, there is no need to stress anymore. Because we provide abundant practice with tests and Quizes. In addition, we have a Student Advisory and Counseling Department (SACD). It is normal in these hard times to stress, but SACD will help you manage your stress.
If you have set your goal high and want to work towards it. The STN course can accompany you in every step of your progress. You can increase your knowledge on the key topics with us and score the highest in MDCAT 2023 as we have an excellent history of scoring top positions every year.
History of Excellence
Every year, thousands of students enrol in our classes for their training in the entry test. And every year, our expert faculty members polish all those students and help them get the best results. A few among those turn out to be the position holders of the MDCAT. 
Also, in the previous year, STEP by PGC was able to bag all three top positions in Punjab. The students scored brilliantly in 2022.
1st position: 1093
2nd position: 1091
3rd position: 1090
You can see details about our position holders on our website. Not only in Punjab, but students from STEP also scored 1st Position in different provinces of Pakistan like Azad Kashmir, Gilgit Baltistan, Sindh, and Balochistan. Our students also topped the federal board entry test and ETEA MDCAT – KPK. STEP aspires to deliver the best result this year as well. 
Join Our Top-Notch Session Now! Apply online or visit a nearby Campus.