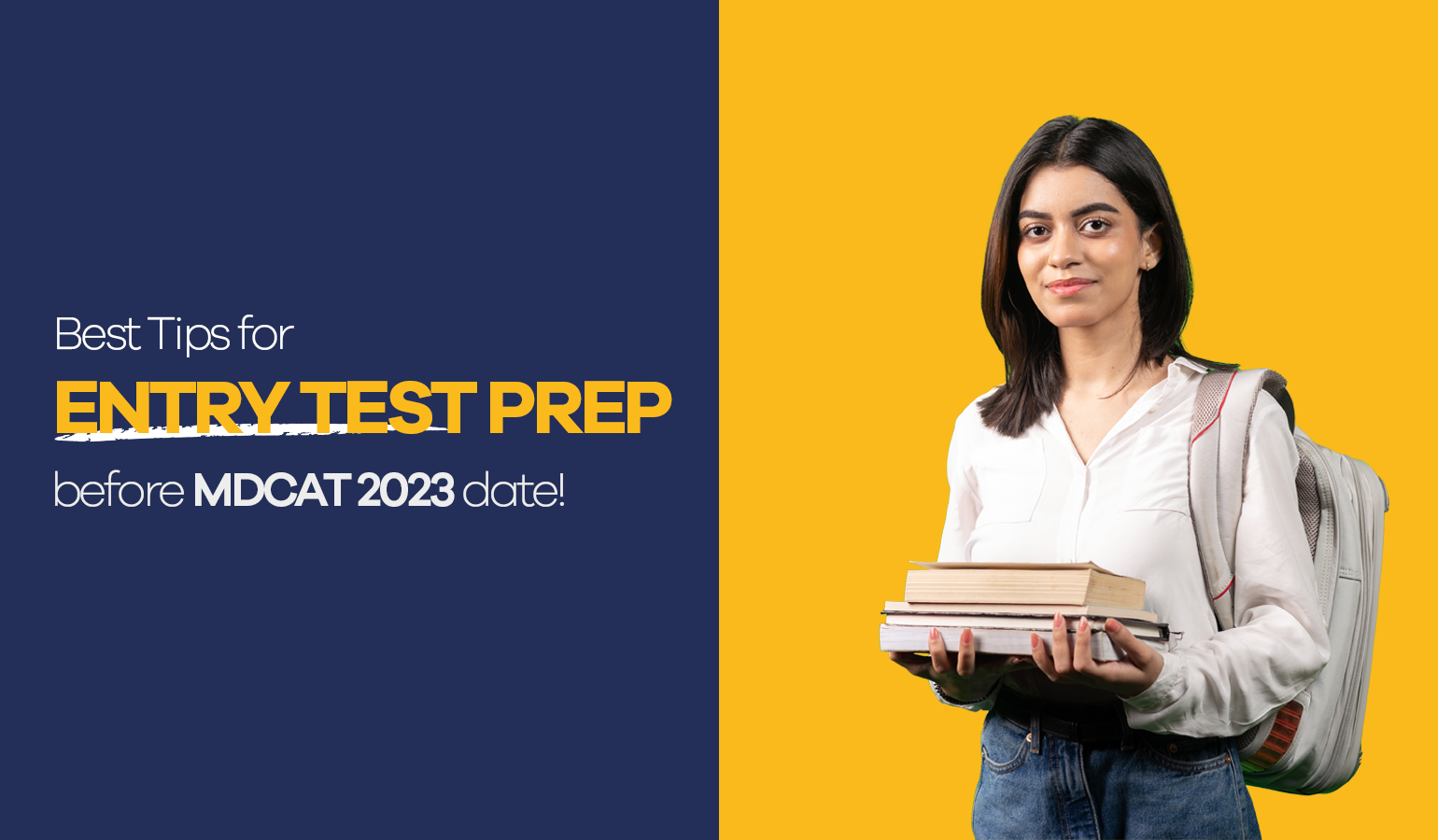 Article: Best Tips for Entry Test Prep Before MDCAT 2023 Date
If you are an MDCAT 2023 aspirant, then you must have known how difficult it can be. But you do not have to worry as I am here to share all the top entry test tips and tricks in the most summarised form prior to MDCAT 2023 date. So, stay with me and read this article till the end.
What is MDCAT?
Basically, the Medical and Dental Colleges Admission Test (MDCAT) is an aptitude analysis exam for every student who wants to become a doctor, a dentist, or any other medical professional in future. So, you must be eager to know how to prepare for MDCAT 2023 but first, let me remind you of the MDCAT 2023 date.
MDCAT 2023 Date
 The date announced by the Pakistan Medical and Dental Council (PM&DC) for MDCAT 2023 is 27 August 2023. It means there is not much time left for you to complete the MDCAT syllabus before the official entry test. So, read these productive tips to accelerate your learning process right now! 
MDCAT Tips and Tricks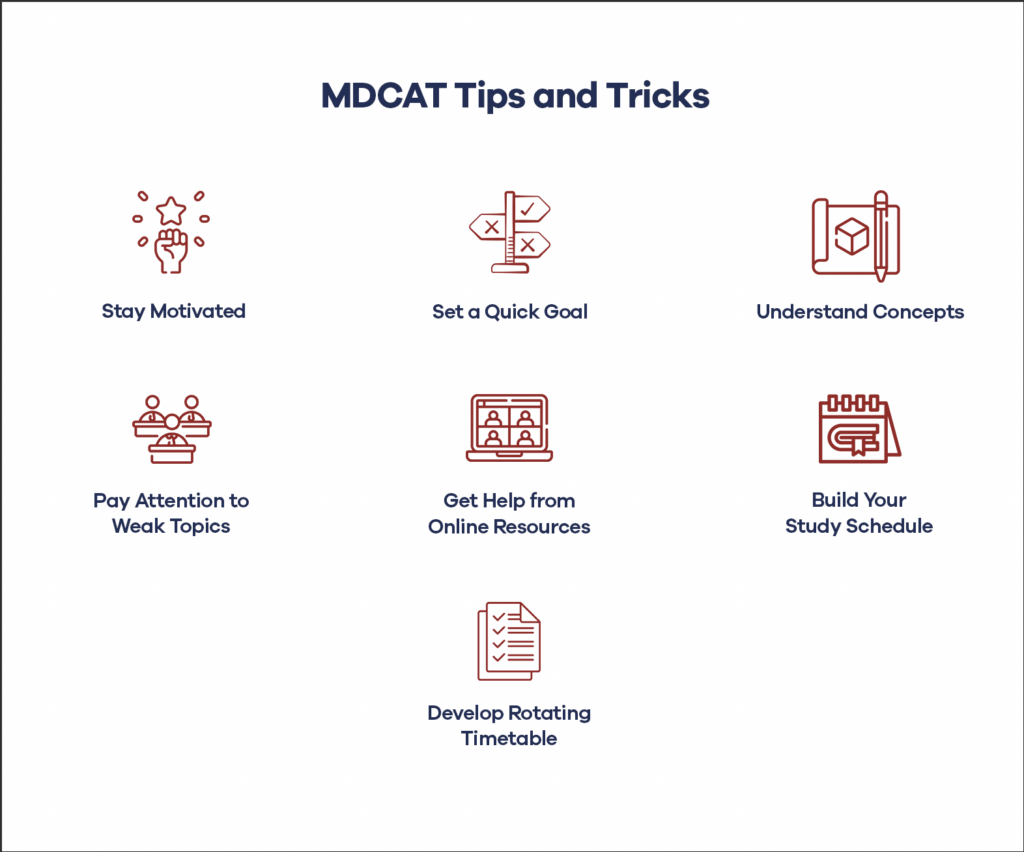 1. Never Lose Your Motivation
First of all, the best tip for any test or exam preparation is to never get demotivated or sidetracked. You just have to give in all your time and efforts towards your future. Thus, you should know these outstanding preparatory tricks which I have shared in this article.
2. Set A Quick Realistic Goal Before MDCAT 2023 Date
You have to determine your goal according to your marks in FSC and MDCAT tentative score. Search for the previous year's closing aggregate percentage for your choice of medical and dental college, and then start your hard work for revisions of every subject towards your set future targeted score.
3. Do Not Try to Cram but Understand Concepts
You must have listened to some people that they just cram everything in the night, or some people will also misguide you to just do selective study. But this is not the time to listen to any non-serious advice. Moreover, you should properly understand each concept of every subject because it is a multiple-choice-questions (MCQs) based exam, so, cramming will never help.
4. Determine the Units of Each Subject that Needs More Attention
As the time is short and MDCAT 2023 date is near. So, to learn all the subjects in an ideal way for MDCAT means you need to separate those topics or units which require more attention. Everyone has different calibre and specialities, and it is alright to have some weak points, but it is not okay to just skip them. Thus, you should prepare those subjects or units with extra focus and care. This will increase your probability to succeed in the MDCAT exam.
5. Get Help from Online Educational Resources 
You can find a wide range of educational resources on the websites online like different books or notes or other aptitude tests which will aid you to excel in your MDCAT test preparation 2023. But you have to make sure the helping materials are credible and will be advantageous for your practice. You can benefit from the online resources in the following ways:
a. Attempt MDCAT Sample Tests Once a Week till MDCAT 2023 Date
You can easily find MDCAT sample test papers online. Therefore, you must solve these tests weekly as it will help you in evaluating your success rate in the official entrance test for this year. 
b. MDCAT Practice Questions
Search for MDCAT practice tests online before MDCAT 2023 date comes. By solving a variety of entry test practice questions, you will be able to boost your confidence and manage your pre-exam stress in a better way.
c. MDCAT Mock Tests
You can test your preparation by attempting MDCAT Mocks which will help you polish your time management and problem-solving skills. Thus, it will be very beneficial for your medical entrance test.
d. Past Papers
Additionally, you should study past papers along with other educational material because it will help you get a clear idea of the type of questions you have to answer in your MDCAT test 2023.
6. Build A Personalised Study Schedule
There is no such thing as one size fits all, so, you should make a personalised study plan which will cater to all your strengths and address all your weaknesses. In this way, you will be able to work on all the strong and weak points efficiently.
7. Develop A Rotating Timetable
As you must have known the MDCAT 2023 syllabus already, you should make a schedule rotating around all these subjects as hardly two (2) weeks are left for the official entry test. You can make a timetable revolving around all the subjects and follow it weekly. You can follow the example like this:
| | | | | | | |
| --- | --- | --- | --- | --- | --- | --- |
| Monday | Tuesday | Wednesday | Thursday | Friday | Saturday | Sunday |
| Biology | Chemistry | Physics | English | Logical Reasoning and solving some Practice Questions | Revision of weak topics and solving some Past Papers | Take MDCAT Mock Tests, Do self-evaluation and study Past Papers |
Hence, you must have found all this information helpful. In addition to that, you can upgrade your entrance test preparation before MDCAT 2023 date by admitting yourself into a top-notch MDCAT prep session. You can enrol yourself at STEP and join our ongoing Mock Phase to enhance your exam practice and understanding.
Enrol In the Best Entry Test Preparation Course by STEP
STEP by PGC is the largest entry test preparatory session network. As a part of Punjab Group, you can trust our quality services. All the above-mentioned educational resources are available online at the STEP website and STEP App in the most credible and comprehensive way. It includes the following different programmes for MDCAT 2023 as well:
Regular Session 2023 (MDCAT, LMDCAT, LMDCAT for NUMS)
Thus, you can get professional guidance with top-quality teaching and invigilation methodologies as per the standards of PMDC. So, you can apply online through the STEP admission portal or you can visit any Punjab College campus near you.
Join STEP For Exclusive Guidance Now!