Are you an intermediate student looking for the best academy to prepare for the MDCAT? Look no further than STEP by PGC! As an entry test preparation project by the Punjab Group of Colleges, STEP by PGC provides top-notch STEP entry test sessions and educational services to ensure that you pass your entrance exams with ease and confidence 
But why should you join STEP entry test programs? Keep reading to find out.  
Top 10 Reasons to Choose STEP Entry Test Programs for MDCAT Prep
Here are the top ten reasons why STEP by PGC is the best academy for MDCAT preparation: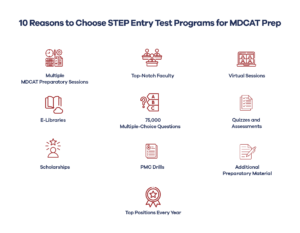 1. Multiple MDCAT Preparatory Sessions 
STEP by PGC offers a variety of MDCAT preparatory sessions that cater to your needs. You can choose from the following sessions: 
You can join the three-month session or just the crash test session at the end. The STEP super batch session, specifically for repeater students, starts before the second-year intermediate exams. This gives you the liberty to choose the session that works best for you. 
2. Top-Notch Faculty 
At STEP by PGC, you will have the opportunity to learn from the best faculty in town. Our highly qualified and experienced teachers will guide you through the tricks and tips for clearing the MDCAT while providing you with a quality education. So, do not waste time and start your preparation by joining STEP entry test sessions.  
3. Virtual Sessions 
You can choose to take the on-campus session or the online session. Whether you attend lectures on campus or from the comfort of your home, you will receive the best preparatory environment possible. We assure you that there will be no compromise on the quality of education provided at STEP entry test courses. 
4. E-Libraries 
STEP by PGC provides students with E-libraries, giving them free access to all the books and learning materials they need. Thus, all you have to do is join and be a part of our growth journey. 
5. 75,000 Multiple-Choice Questions
The STEP entry test session aims at nothing but perfecting your medical entrance exam preparation. Also, we know that MDCAT is a multiple-choice question-based test. As a result, STEP by PGC has an MCQ bank of over 75,000 MCQs. Practising these MCQs will prepare you to attempt the final paper successfully. 
6. Quizzes and Assessments
Another amazing part of STEP entry test programs is that you will be attempting MDCA pattern-based tests. Throughout your session, you will practice multiple tests and assessments covering the entire syllabus chapter-by-chapter, unit-by-unit, and finally in full-length papers. These tests include: 
a. Unit-Wise Tests
 These include unit tests. A unit consists of different topics of different chapters of a single subject. So, you will attempt multiple unit-wise tests in STEP entry test sessions.  
b. Crash Tests
Crash tests are the ones that contain multiple units of different subjects, broadening the horizons of your overall preparation. So, you will attempt multiple crash tests at STEP by PGC.  
c. Full-Length Papers
Full-length papers, or FLPs, are the MDCAT-based tests with the same question division, difficulty level, and pattern as the actual exam. These papers will prepare you according to the final MDCAT exam. 
7. Additional Preparatory Material 
In addition to tests and quizzes, you will receive worksheets containing extra MCQs for each subject that you can practice in your free time. This works wonders for your MDCAT preparation. You will have more practice material that will help you achieve the goals you have set.  
8. PMC Drills 
STEP by PGC has purchased all the PMC sample papers, allowing you to attempt mock tests given by the PMC itself. This gives you a clearer idea of how the MDCAT paper is set and how to manage time and approach the questions for the right answer. So, STEP entry test programs provide you with these PMC drills. As a result, you will have better preparation  
9. Scholarships 
STEP by PGC offers multiple scholarships to its students. When you register for the MDCAT session, you can apply for your required scholarship. Here is a list of incentives that STEP by PGC offers: 
On-Campus Scholarship

 

Inter (Part-1) Based Scholarship

 

High Achievers Scholarship

 

Need-Based Scholarship

 

Kinship
10. Top Positions Every Year
We have a track record of securing top MDCAT positions in the past few years. As a result, our students achieve the highest scores on entrance examinations since we offer them the finest learning environment, teachers, preparatory material, and guidance. 
In conclusion, STEP by PGC is the best academy for MDCAT preparation due to its various STEP entry test sessions. So, do not waste time and enroll yourself at STEP by PGC now to get the best education from the finest faculty in town.